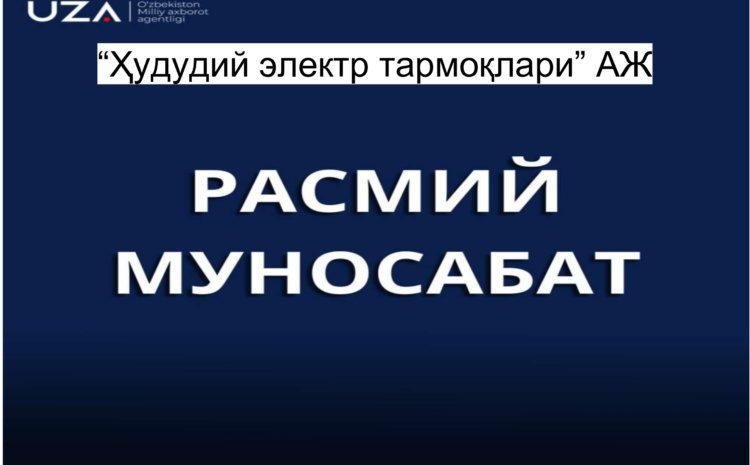 JSC "Hududiy elektr tarmoqlari" expressed an official reaction to the restrictions through the meter
153 ko'rishlar
Restrictions through the counter are applied when necessary and at a certain time interval
Some changes in electricity consumption are being misinterpreted on social media. It says that if you connect three air conditioners in the apartment at once, the meter will automatically cut off the current, or the meter will limit the power to 10-15 kW.
Fakhriddin Nuraliev, the head of the press service of JSC "Territorial Electric Networks", gave the following information regarding these reports:
According to the decision of the Cabinet of Ministers of the Republic of Uzbekistan No. 22, the relevant paragraph of the "Rules for the use of electricity" was amended. According to it, starting from November 1 of this year, based on the minimum power of the devices needed for their needs (and their location), a limitation of 10-15 kW power will be introduced through the meter.
It should be noted that such a measure is used out of necessity in order to ensure that consumers are not cut off from electricity supply for a long time in certain areas where there are old and overloaded power networks and transformer points. That is, this year, it is carried out only in situations such as unfavorable weather conditions observed in the winter and summer months in order to prevent excessive loads on the electric grid.
For information, based on the above decision, within the framework of the automated system of control and accounting of electric energy by JSC "Territory Electric Networks", it is determined to introduce a limitation within the range of 10-15 kW power through the meter, based on the minimum power of the devices necessary for the needs of consumers and their location. it should be noted once.
It was prepared based on the information of the uza.uz site