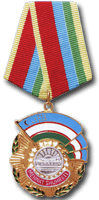 In accordance with the Decree of President Shavkat Mirziyoyev of August 28, in connection with the twenty-ninth anniversary of Independence of the Republic of Uzbekistan, a group of civil servants and workers in the industrial and socio-economic spheres was awarded.
Among the awardees, Abdurashit Ruziyevich Olimov, a bulldozer driver of the JSC "Sharguncoal", was awarded the Order of "Mehnat Shukhrati".
We sincerely congratulate our colleagues on the high award of our Motherland.